Welcome to Chateau Shady Loop
Whether you are looking for summer Newfoundland accommodations for hiking Gros Morne National Park or a winter getaway on a snowmobile in the Tablelands, Chateau Shady Loop is the ideal Gros Morne Accommodations. Come experience the luxuries of a home yet the remoteness of a Gros Morne cabin.  Chateau Shady Loop has everything to offer you as for your Gros Morne National Park vacation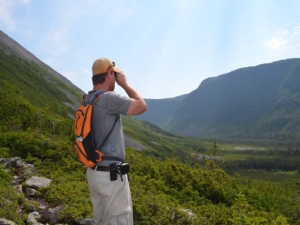 Explore
Perfectly situated to visit Gros Morne National Park on your Newfoundland vacation you can set out to hike, snowmobile or drive to a UNESCO world heritage site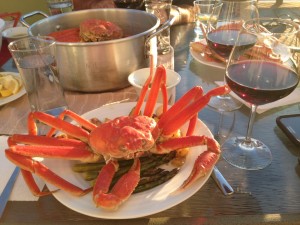 Indulge
With a fish plant and full produce supplies all in close reach, take the opportunity to prepare your favorite seafood treats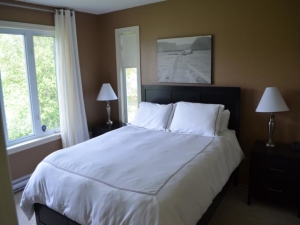 Luxury
Why rough it in a cabin when you can enjoy the comforts of home, memory foam mattresses and premium dishware

"We loved this tranquil property. It was ideally situated to explore Gros Morne, while still being close to Deer Lake for the airport and grocery needs. Everything was spotlessly clean, the beds were very comfortable, and the kitchen was well equipped. We can highly recommend it. "

Janice,
"The cottage was spotless and very modern. We were so impressed with the view of the lake and the tranquility of the surroundings. We used the hot tub every day after hiking in Gros Morne. What a treat! ."

Colleen,
"We absolutely loved our stay at Chateau Shady Loop. In a heartbeat ,I think all six of us would return here,as none of wanted to leave "

Sue,
"If you are going to Newfoundland you should not miss Gros Morne…and having Chateau Shady Loop to go back to makes it even more unforgettable. "

JC,
"Thank you so much for sharing this piece of heaven with us. Your place is perfect. Your attention to detail is unsurpassed when compared to the many great properties we have rented throughout the world. "

Geoff & Shoona,
Perfect Location
Situated on the edge of Big Bonne Bay Pond and Gros Morne National Park our 1800 sq foot luxury beachfront vacation house offers beautiful views of the Pond, rolling hills and wildlife.  Our house is located only 15 minutes from Deer Lake to get to the airport or for supplies and it is perfectly situated for visiting Gros Morne National Park.  A drive across Gros Morne National Park can take 2.5 hours.  Our house is only 30 minutes from Woody Point, the Tablelands or Rocky Harbour.  This leaves you less driving and more time for exploring.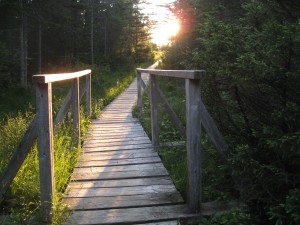 Vacation Home Amenities
Our house comes completely furnished for your stay, including a finished basement with a plasma tv, air hockey table, lobster cooker, gas barbecue, fire pit, 2 fridges, dishwasher, the list goes on! With a fish plant and full grocery facilities nearby you'll have lots of opportunity to enjoy fresh lobster, cod and all kinds of ocean treats.  If you need to get online and connect with others our house is equipped with Satellite internet and a phone line with free Canada and United States long distance.
Other Amenities
Free Wireless Internet
Free Firewood
Free Hot Tub
Free North American Long Distance
Free Satellite Television
Activities
Snowmobile and Four Wheeling
Trout, Cod & Salmon fishing
Gros Morne National Park hiking
Boating & Swimming
Marble Mountain Downhill Skiing
Recreation Paradise!!
Every season offers a reason to return to the Chateau.  Our year round road and short 2 minute drive off of the 430 makes access easy in every season.  Whether it is snowmobiling on the number one rated trail in the world, ice fishing, four wheeling,  boating, hunting, hiking or just relaxing with a book in the fresh air, a stay at Chateau Shady Loop offers it all!