Amazing Winter in Newfoundland at Chateau Shady Loop!!!
The only thing better than the summer in Newfoundland is the Winter in Newfoundland!  As beautiful as the summer is… With an average snowfall of 14 feet at Chateau Shady Loop a real Newfoundland Winter just adds to the beauty and the recreational opportunities.
If you are travelling to Newfoundland why not come in the Winter and have twice as much fun.  Rental cars and flights are much less expensive in the winter so your travel costs will be quite a bit less.  If you have never experienced a real Newfoundland winter where you need sunscreen, there is lots of snow and its comfortable outside, then perhaps you should consider a winter visit to Chateau Shady Loop
 Marble Mountain Downhill Skiing
Chateau shady Loop is a short 50 minute drive from Marble Mountain. With 39 runs there are lots of options for all skill levels. There are rarely lines for the 3 lifts or the magic carpet to get up the beginner hill. The 1700 vertical is the highest in Atlantic Canada. Marble is normally open from December 26 through early April. Our boy's love the children program there. They offer all day children care a private lesson and lunch for a reasonable price. It allowed us to get a full day of skiing in and to bring them out whenever they want to ski.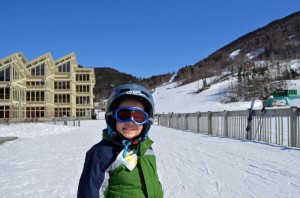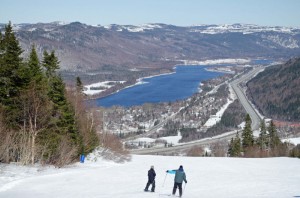 Cross Country Ski
There are so many options for cross county skiing in Western Newfoundland. There are over a dozen groomed trails inside the Gros Morne national park as well as a wax shop at the visitor center in woody point.  Pasadena which is only 50 minutes away has another 20km of groomed trails and equipment rentals. Add to that the endless backcountry options and you can  never run out of options to cross country ski from Chateau Shady Loop.

Snowmobile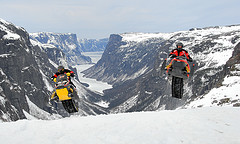 Whether its powder you seek, riding along glacier carved fiords, or along the 5000km trail network in Newfoundland, you can access it all from Chateau Shady Loop.  Considered by many as the snowmobiling capital of Canada, if not the world, you will find everything you would want in your snowmobiling vacation

Snowshoe
The best part about all the snow on the west coast is that you can go almost anywhere. With a set of snowshoes there are so many places to explore in the area. The tablelands and Bonne Bay Pond are both great places to explore on showshoes. You can break your own trail, or 5 minutes from Chateau Shady loop is a popular cross country skiing and snowshoe trail that leads into the mountains of Gros morne National Park.

Sliding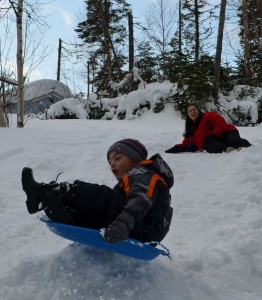 You don't need to travel to slide at Chateau Shady Loop.  There is always some giant snow piles on our property from cleaning the driveway.  Plus there is a good hill on the loop.
Ice Fishing
Perhaps your winter sport is suntanning and fishing under the bright blue sky.  There are lots of places around Shady Loop to ice fish.  You can walk to the point and drop a line for trout or you can snomobile almost anywhere and ice fish.  Another alternative is inside Gros Morne National Park.  There is some amazing spots to drop a line as seen in the pictures here.  Do you know anywhere else so spectacular to fish?  Bring your sun glasses!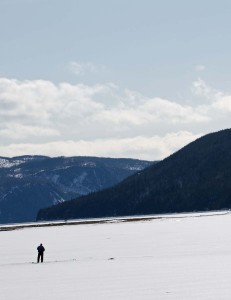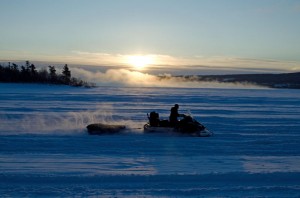 Winter Hot Tub
The Chateau Shady Loop salt water hot tub is amazing year round.  Now imagine a lightsnowfall while you are soaking in the tub after a snowshoe in the mountains…..  Close your eyes again and image an nightime hot tub with the northern lights filling the sky on a cold winters night.  The snow piles up so high its like having an ice tub inside an igloo.  You can imagine the costs to keep this running all winter long, but you can imagine the enjoyment of getting to soak in it after your winter activities.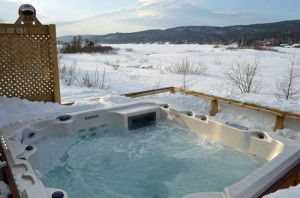 The Ultimate True Blue Sky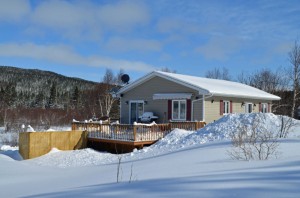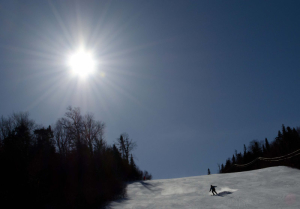 Come experience an amazing Newfoundland Winter at Chateau Shady Loop!